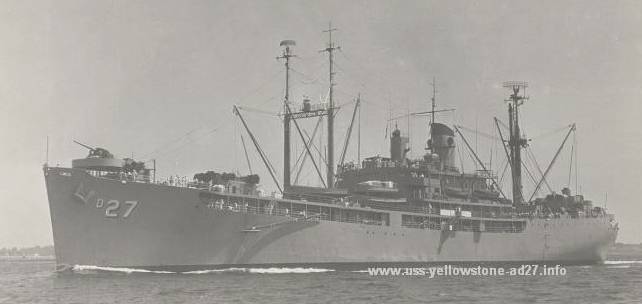 Narragansett Bay, Rhode Island. Dependents' Cruise, Summer 1959
This is not an official US Navy Web Site. It is merely a tribute to one of the finest Destroyer Repair and Support Ships of the US Navy and to the men who served aboard this Queen of the Tenders. Its purpose is to acquaint landlubbers with a warship which worked equally as hard in time of peace as in time of strife and to provide an opportunity for shipmates to revisit the past, to renew old friendships, and to refresh half forgotten memories.
The keel for this Web site was laid in April 2004. It was launched a few days later. Contributions, such as announcements, photos, and stories pertaining to Old Faithful and her crew are always welcome. While the site is still under construction, please, make use of the "Email Us" page for inquiries and comments of any kind. Perhaps you'd like to bookmark this address in your "Favorites" folder and visit here often, especially during our growth period.
Dedicated to all who have served. In memory of those who have gone before.
Welcome Aboard!
Report Web Site Bugs and Glitches to our Webmaster